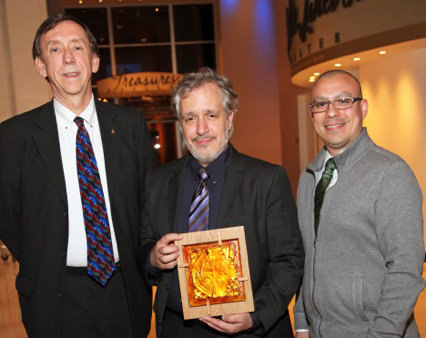 Two projects by Hartshorne Plunkard Architecture have received top prizes at the 2013 Honor Awards presented by AIA Illinois. 
The top design prize of the evening, the Louis Sullivan Award, went to Randolph Tower in Chicago. The project successfully transformed a historic landmark into a vibrant community within the heart of Chicago's Theater District.
"The jury recognized the daunting challenges of the rehabilitation of Randolph Tower and was impressed by its ambitious scale and complexity," said Brandy Koch, 2013 AIA Illinois President, who convened the national jury and served as an ex officio member.
By reviving a long dormant Gothic Revival skyscraper, the project team preserved a key chapter of Chicago's architectural history, all while overcoming complex coordination challenges and meeting an aggressive 24-month schedule.
In accepting the Sullivan Award alongside colleague George Valdez, AIA, Paul Valessandro told the audience, "This project was 13 years in the making, and getting it completed took one of the most amazing public-private partnerships ever assembled. The building was simply a disaster when we got to it, and it still amazes us for what we were able to pull out of the wreckage. Both of us will be proud of this project for the rest of our careers."
The firm won a second award, the Crombie Taylor Honor Award, for the Hairpin Lofts And The Arts Center in Chicago, which is listed on the National Register of Historic Places.  The Crombie Taylor Award recognizes a project that, through preservation and restoration, has enhanced the natural and built environments of a community
The $12 million renovation includes 7,000 square feet of retail space, an 8,000-square-foot arts center, and 28 rental lofts, with all but three units dedicated to affordable or disabled housing. Wiss Janney Elstner assisted in the exterior restoration. The already award-winning project is home to artists and families, and stands as an example of the success possible in blending mixed-income housing, historic preservation, environmental sustainability and a commitment to neighborhood revitalization and the arts.
AIA Illinois presented five Honor Awards for service and five awards for design at a banquet at the Abraham Lincoln Presidential Museum in Springfield on Friday, April 12. The national jury chose from 90 total nominations representing the best work by Illinois architects.